In the Doing Business 2020 report published in October 2019, Nigeria was categorized as one of the top ten improvers in the ease of doing business globally. The country moved up fifteen places to its latest ranking of 131 out of 190 countries. Nigeria's Ease of Doing Business Score in this year's report is 56.9 points, having experienced an improvement of 3.4 points year-on-year.
By documenting changes in regulation in 12 areas of business activity in 190 economies, Doing Business analyses regulation that encourages efficiency and supports freedom to do business. The Doing Business Report Investigates the regulations that enhance business activity and those that constrain it. It presents quantitative indicators on business regulations and the protection of property rights that can be compared across the 190 economies.
One of the 12 areas of this report is trading across borders. And among the ten economies that advanced the most (of which Nigeria is one), efforts were focused on the areas of starting a business, dealing with construction permits, and trading across borders.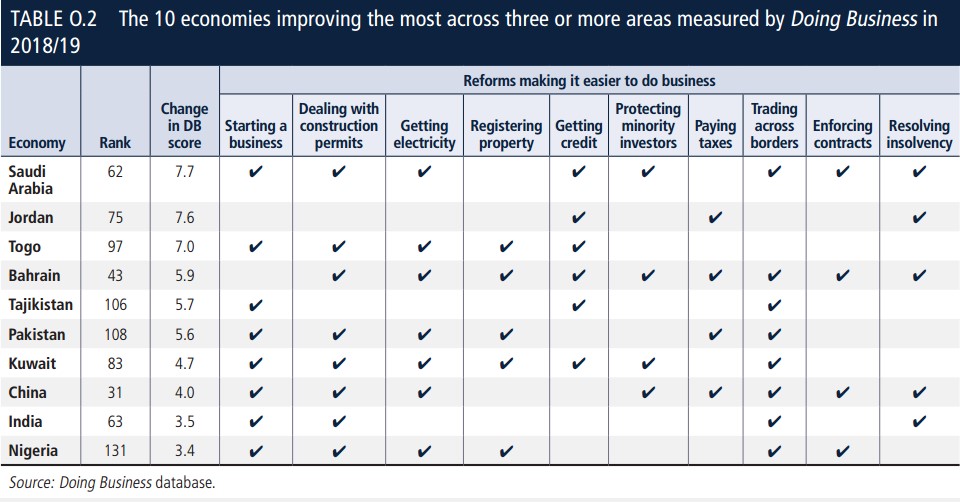 In the area of trading across borders, Nigeria improved from a score of 23.08 in last year's report to 29.2 in this year's. This is a slight improvement; however, a lot of Nigerians are wondering how the overall ranking could have indicated an improvement in doing business when the reality they see is the closure of land borders with neighboring countries, a situation that has led to increase in the price of food and other commodities.
Firstly, it is important to note that the trading across border area of the report mainly highlights and measures the time and cost to export the product of comparative advantage and to import auto parts. It does not particularly measure the reality of Nigeria's current border closure. Several products, including food and finished goods are imported through the land borders, mostly illegally. Also, the report uses data from the past year, which may not necessarily reflect current realities, even for areas that are measured.
Nigeria's Federal Government has been exploring ways to increase the local production of food in a bid to diversify the economy, save foreign exchange and create more jobs. In late August, Nigeria partially closed its borders with neighbouring Benin Republic in order to curb the smuggling of large quantities of rice and other commodities.
Much of this action wasn't well thought out and the border closure is coming with grave, unintended consequences. According to the National Bureau of Statistics, consumer inflation rate rose to 11.24% in September after falling to a 3-and-a-half-year low in August. With a problematic poverty rate, Nigerians now have to pay more for food and even other commodities.
Moreover, in October, the FG further tightened the screw by banning all trade across land borders to force Benin Republic and Niger Republic to address smuggling into Nigeria. However, Neighbouring Benin Republic has a more favourable import tariffs and conditions, which makes it an attractive route for traders trying to bring their goods into Nigeria.
The border closure has now been extended to January 31, 2020. The government claim there is the need to fully achieve the strategic objectives of the operation. While this operation has resulted in some security and economic benefits, according to customs officials, the blockade has had a ripple effect across the West African sub-region, and factories and traders are struggling to import key raw materials and having to use alternative routes for their exports, according to the Lagos Chamber of Commerce.
While Nigeria is unarguably one of the top ten improvers in the doing business 2020 report, authorities must look beyond the metrics used in the report and create conditions that will help improve the living standard of Nigerians, improve cross-border trade and guarantee business friendly policies.