In the last couple of weeks, the Nigerian government has responded to curtail the spread of the novel COVID-19 virus in the country. International flights have been shut and a number of states including Lagos and Kaduna were already enforcing varying degrees of restrictions on movement, gatherings and marketplaces before the Federal Government announced a lockdown of Lagos State, FCT, and Ogun State to take effect from Tuesday 31st March. Schools have been shut as well, and the National Youth Service Corp (NYSC) members have been temporarily released and free to return to their homes.

Amidst all of these chaos and uncertainties, Government revenues are expected to drop drastically as the price of oil – Nigeria's main source of income – has plunged to less than $30 per barrel. Reduced economic activities will also mean less tax revenue than earlier projected. This revenue plunge is expected to impede effective government response to the pandemic while fulfilling its other obligations through the year.

In a bid to address the emergency Healthcare needs necessitated by this pandemic, Nigerian Private Sector Coalition Against COVID-19 was recently formed, and 120 billion Naira is being donated by the CBN, Dangote Foundation, as well as other major private sector players. This fund is expected to cater for testing, treatment, infrastructure, and more.
Unfortunately, around the country, economic activities have slowed dramatically, many companies and government agencies have stopped work and the incomes of many employees, workers, and daily earners have come to a halt. For a country with over 95 million extremely poor people, this is a huge challenge.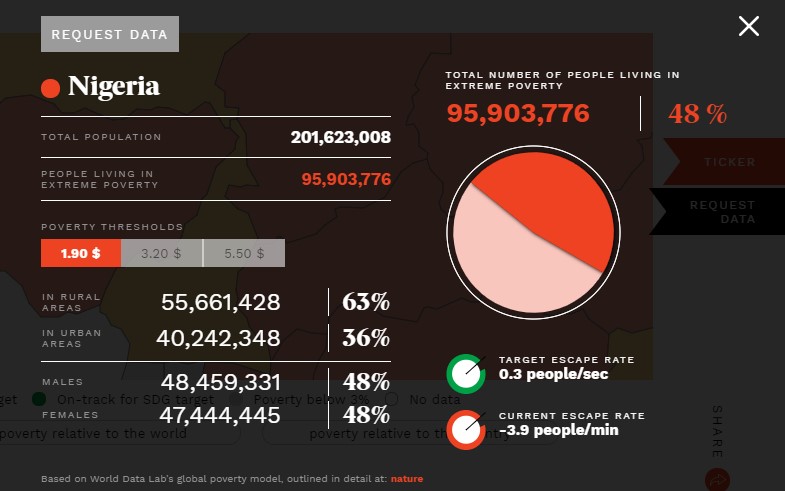 Although the federal government has commenced the payment of N5,000 monthly stipend (for multiple months) to as many as 1 million vulnerable households through its Conditional Cash Transfer (CCT) program. These beneficiaries were however identified much earlier than now; there are many more people and families whose incomes have been cut and survival threatened by the current state of things. Governments of a few states are also making efforts to support some of their most vulnerable citizens with food items. Unfortunately, this help is insufficient and the government can only provide it to a very few of the many people who are in dire need as they are unable to go out and earn. Much richer countries such as Canada and Germany have the capacity to provide welfare packages in difficult times like this. This is not the case with Nigeria.
As the country works to flush out this virus, It is important to recognize that there has to be a sensible balance between the public health approach and the economic survival of millions of Nigerians. Measures taken in times of crisis like this have far-reaching implications, even beyond the end of the crisis. Already, precautionary measures such as hand sanitizers and hand washing basins can be noticed in public spaces such as banks, offices, shops and supermarkets, and restrictions have been placed on large gatherings and overloading in public buses in several states. It is very imperative for the Nigeria Centre for Disease Control to speedily scale testing, isolation and treatment of identified cases for these restrictions to be meaningful.

It is hoped that, following the several public health measures that are being taken by the relevant authorities together with the massive awareness campaigns, the infection rate will significantly drop over the period of this lockdown and people can resume normal life as soon as possible. With a weak healthcare system, Nigeria cannot afford a massive spread of COVID-19 in the country. Also, with many millions of already poor and vulnerable population, the country cannot afford the effects of a prolonged lockdown and restrictions.