In all elections held since Mahmud became an eligible voter, he always had a preferred candidate, be it Presidency, Governorship, Senate or Representative member, but most of the time, he ended up not casting his vote on election day.
Mahmud is among the dataset of registered and disenfranchised voters in Nigeria. According to him, "I did my voter registration in Abuja during my service year but I live in Ibadan now and I can't travel to Abuja to cast a vote that doesn't count, or worst get killed because some hoodlums are shooting in the air as they cart away ballot boxes."
The reality of elections in Nigeria is what Mahmud summarised in his 'why-I-do-not-vote' speech, which I will analyse under the sub-headings below.
Voters' Apathy and Electoral Violence
As at 2019, when Nigeria had the last general election, it estimated its population at 200,000,000. Out of this, INEC's tally of registered voters was 84,004,084, but only 26,468,211 (32.14%) voted during the Presidential election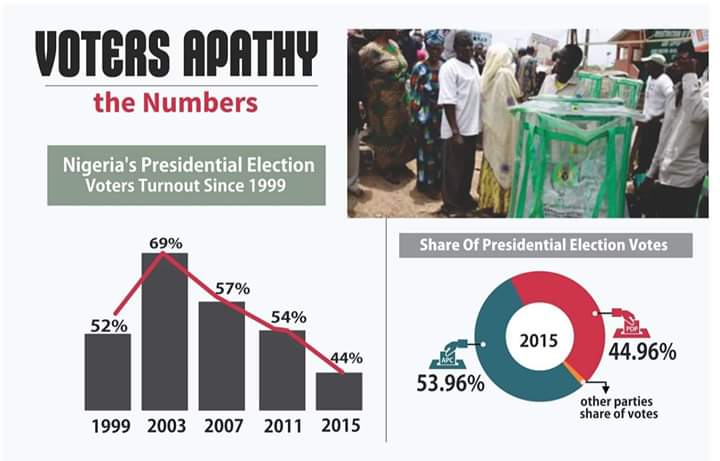 The infographic above showed that voters' turnout in Nigeria elections has been declining since the 2003 general election, despite an increase in the number of registered voters.
It is an eyesore at state level as the 2019 gubernatorial election in Lagos had 17.25 percent voters' turnout of over 6.3 million eligible voters. The just concluded gubernatorial election in Edo state showed that there was 25 percent turnout of about 2.15 million eligible voters, while Ondo state had 32.8 percent turnout of over 1.8 million eligible voters.
The root cause of low turnout during elections is voters' apathy. Many Nigerians feel their votes do not count, hence, they do not trust the electoral process. Nigeria's presidential election since 2003 had damning evidence and reports of irregularities and massive rigging, still the country's apex court sustained these elections. These breeds alienation among citizens, making them abstain from voting. 
Closely linked to alienation is electoral violence, many Nigerians prefer the safety of their houses to polling units during elections. A report by Nigeria Civil Society Situation Room revealed that between the start of the campaign in October 2018 and last elections in March 2019, 626 people were killed. While violence broke out on election day in Lagos, Kano, Rivers, Benue, Ebonyi, Imo, and Akwa Ibom states.
Like Mahmud pointed out, many Nigerians fear going out to vote and get killed, hence, they ignore elections completely on voting day.
e-Voting in Nigeria
INEC is adjudged to have one of the largest databases of Nigerian citizens, still it has not transitioned into an electronic voting system. Though, it has gradually automated the critical pillars of the voting process like smart card reader, PVCs, and uploading polling unit level results on its website on Election Day.
In October, the commission announced virtual demonstration of Electronic Voting Machines (EVMs) by its manufacturers, but they have not made the final decision on the e-Voting system options, although 2023 is almost here. The e-Voting system options are; Optical Mark Recognition (OPM) scanning machines, Direct Recording Electronic (DRE) voting machines, Ballot Marking Devices (BMD), and Touch-Screen Computers (TSCs).
Nigerians are eager to use e-Voting systems because it will improve voter turnout [especially from the youths], curb electoral violence, reduce government cost and improve convenience for voters. However, the citizen's skepticism lingers on because of susceptibility to election compromise through hacking.
Matters Arising
Indirectly, INEC uses voter registration to disenfranchise millions of Nigerians as it does not open up registration centres until a few months before the general election, whereas voter registration should be a continuous exercise. As the commission's chairman, Professor Mahmood Yakubu (who is about to be confirmed for a second tenure by the Senate), announced that Continuous Voter Registration (CVR) exercise will begin in the first quarter of 2021, ahead of the 2023 general election, citizens hope there will not be a change of plans.
Nigerians are hitching to exercise their civic rights in the 2023 general elections, which could make or mar its polity as citizens, especially youths have shown renewed interest in political participation, following the current administration's handling of the #EndSARS protests and the crisis that ensued afterwards.
The commission is determined to deploy electronic balloting machines starting with the 2021 Anambra governorship election. However, the final transition to e-Voting systems in 2023 is the only conclusive end that Nigerians want to hear in justification for the accumulated estimate of 500 billion naira earmarked to INEC in Nigeria's budget between 2015-2020.
---
This article conveys the views of the author and not necessarily that of Ominira Initiative.